You know you're a Redneck Mommy when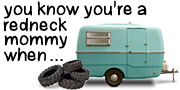 The Redneck Mommy, aka Tanis, brought home her son on Thursday and some of her closest friends are throwing her a Redneck Shower! They sent out a large email to her friends and readers and asked each of us to write a quick blog post by today that shows how we are also a redneck mommy (or daddy).
Since I don't have kids, I decided to showcase my redneck parenting in relation to Jigsaw, our dog. Because she really is our kid when it boils down to it.
You know you're a redneck daddy when . . .
You accompany your dog to the backyard, in your underwear, and pee in the grass alongside her.
Instead of buying her toys, you just pick up random cardboard boxes to bring home.
She's inherited your distaste for vegetables and your love for fried food.

Are you a redneck mommy or daddy? Leave your examples in the comments.