S&M melts in your crotch, not in your hands: Product Review
Hey everyone – Avitable here. When someone emailed me and asked if they could use my blog as a forum to review sex toys anonymously, how could I have said anything other than yes? Please to enjoy:
I love to have sex.
And when I say sex?
I mean fuck your brains out sweaty slamming against the wall sex.
I don't have anywhere else to write about my love of sex and with Adam being the lover of all things fuck has been gracious enough to allow me use of his space and Eden Fantasys has allowed me to try out a few new tools in my bedroom. What follows is my report on the Beginner's Bondage Fantasy Kit along with the Whipper Tickler.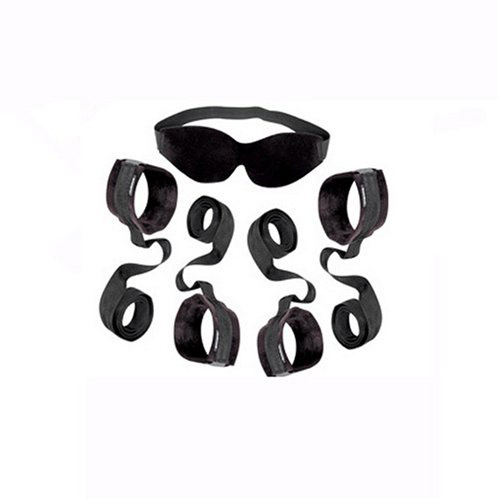 First of all, the bondage kit. The blindfold is pretty comfortable and seems to work well, it doesn't have the typical gap at the bottom allowing for peeks at what's about to happen to you which is good for anticipation. The cuffs are soft and for now seem strong enough to hold up to the hardest of struggles. The biggest drawback is my bed has nowhere to tie the straps to. Make sure you have a four poster bed to tie them to or a single bed so you can tie the straps together and run them under the mattress. I ended up having to just wrap the straps around his wrists and ankles, which made it hard to get between his legs and give him a proper blow job. And if I couldn't get his legs apart enough to blow him? There's no way I'm ever going to be satisfied with my ankles tied together.
It's the vulnerability that makes S&M so hot.
The Whipper Tickler has a puff of feathers on one end and soft rubbery threads on the other (think Koosh ball.) The stick is made of hard plastic and on the back of the box it had the suggestion of lubing up the handle and "playing the violin" between your partners legs.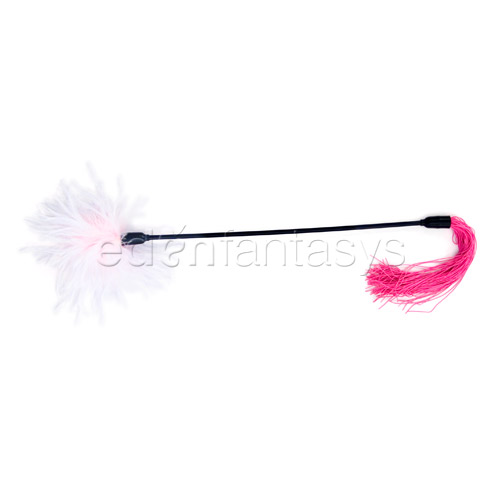 While we haven't had the chance to reciprocate with the Whipper Tickler I can tell you the thought of being tied up, teased, tickled and played like a violin has my heart racing. While the whip part of this toy could be washed, the feather end would be rendered useless if it were to get lube or love juices on it, so keep use it to get your lover warmed up, not when they're already hot, heaving, sweaty and begging for more.
With a combined price of less than $35 these two items are an amazing introduction into the world of bondage. Versatile and inconspicuous, they're good in case you forget to put them away as they won't going garner as much attention as say some kitty print whip with a mask. (Hardcore sex 101? Find somewhere safe to keep your stuff. If you think it's safe, it's probably not. Move it, especially if you have kids.)
Think you're too shy to tie your lover up? Let me tell you this. We all have "that girl" or "that guy" inside of us. That person who wants to scream, dig their nails into the flesh of their lover, that person who wants to be remembered as the best someone has ever had even if only for one night. Insecurities and inhibitions get in the way. But if your mate is tied up? Blindfolded? They will be unable to defend themselves or see you lose your "manners." Go ahead, touch yourself and purr. They'll never know until you are either dripping wet with desire or throbbing to get inside. Smack them with the whip and leave a mark they'll remember at tomorrows boring business meeting. Want to sit on your partner's face? Do it and thank me later.
Take control of your pleasure, go ahead, they have no choice but to obey.
Avitable here again. Thanks for the review! I think this might become a recurring feature, so we need a name for this anonymous reviewer. Any suggestions?