I didn't think I had a soul, but apparently I do and it makes for an epic portrait.
I can't remember where I first ran across Erial Ali.  It may have been thanks to a tweet from Metalia or Samantha.
Erial "meditates and tunes into you" to "get your unique essence", and once he "gets an aspect of your celestial self", he will transform a normal photo into a Celestial Soul Portrait!
Here's a before and after example, taken from his website, solely for the purposes of an example: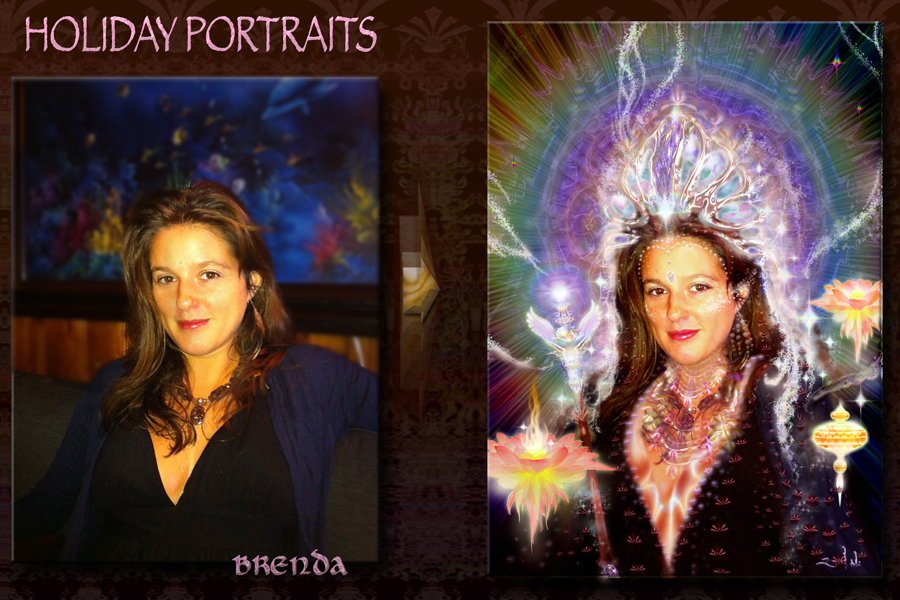 As soon as I saw his site, I knew I had to have one done.  Unfortunately, time got away from me and I forgot about it.  Until I saw the majesty that was Catherine's celestial soul portrait, that is.  And then I knew I had to have one for myself as soon as possible.
I shared the link to Catherine's soul portrait awesomeness with my newly discovered BFF, Becky, and she was as enthralled as I.  After some scintillating conversation that contained lots of "holy fuck"s and "epic"s, we decided that the only way to have a more awesome soul portrait of ONE person is to have one of TWO people.
Here is the original photo that we sent over to Erial (thanks to Ang):
And, two weeks later, here are the two final versions we received from Erial.
….
Now, your brain might not be ready for the epic awesomeness of our celestial soul portraits.
….
If you're standing, you may want to sit down.  If you have small children, you may want to ask them to leave the room, because there is a very high probability that their heads will explode just from the power of our two evil souls displayed for the world to see.
…
Are you ready?
…
Are you sure?  I mean, your mind will be blown.
….
Okay, without further ado . . .
I know that at least 25% of the people who saw these portraits just had their brains blown out of the top of their head from the sheer power of our soul portrait.  My condolences on your loss.
In the end, all I know, is that I'm printing one of these out into a poster and hanging it in my bathroom so that it can be with me for all the important moments in life.
If you want a mind-blowingly awesome soul portrait of your very own, go contact Erial today!