During the Halloween party, we had one room that was turned into a photo studio and took professional photos of almost every guest (except for the few who never meandered into the studio) in their costumes. I thought since most party photos are so dark, the quality would suck, so everyone might enjoy a nice, high quality photo of themselves at The Neverwas Fair.
I had this whole plan to upload the photos to Flickr and then move them over to Qoop, which allows you to buy prints. I was going to sell prints to everyone and everybody would be happy. The problem is that Qoop sucks. It's one of the worst sites out there and very poorly managed. Fuck you, Qoop.
The new plan is much simpler. Here is the Flickr set with all of the photos. For each photo, you can click the "All Sizes" button at the top to view the high resolution versions, and then you can download the high resolution versions to your computer and you can even print the photos through Flickr to be picked up at your local Target. If you do print these photos, make sure to print them as 5X7, not 4X6!
Here are a few random photos from that set:

———————— Adam Avitable posted on November 7, 2008: ——————————

Many of you were wondering why I kept pestering each of you for photos of yourself as a child. As part of our theme of an old abandoned carnival, the concept was designed around the idea that the reason the carnival shut down was that all of the kids disappeared. And here's what we did with those photos (you can also see the Flickr set here):

———————— Adam Avitable posted on November 5, 2008: ——————————

Click to embiggen:

———————— Adam Avitable posted on November 3, 2008: ——————————

Saturday night, I had a little soiree. You might have heard about it. There was nudity, vomiting, crossdressing, more vomiting, horrible screeching sounds karaoke, fighting, and a party that started at 8 PM and lasted for 9 hours.
Britt created a Flickr group for photos of Avitaween 2008, so if you have photos that you took, please join the group so that we can have them all in the same place. The rest of you can go check out this group to see a lot of the photos that were taken.
The party was a huge success, and I think everyone who came had a great time. It was not a solo effort and wouldn't even have existed if it wasn't for the efforts of several people.
First of all, huge props go to my friend Clown. Since May, he and I brainstormed, built, and developed every single decoration and prop. He spent most of his free time, even at home, working on this party. Thank you so much for the help – this was just as much your party as it was mine, and thanks to you, it was a huge success.
Secondly, I have to thank my wife. She has had to put up with our house slowly filling up with props and sawhorses and tools and nails and staples and wood as we worked, and never said a word. She also fully supported each and every blogger who decided to lick my nipples on camera. Thanks, sweetie! Of course, now we have to start even earlier to make next year's party even better, so enjoy this short respite while you can.
Finally, let me thank Jess, Dave2, and Clown for the T-shirt designs. That helped us defray our costs significantly, and I have an announcement about the T-shirts at the end of the post that you don't want to miss. Thanks again to Jess for spending the whole party taking photos of everyone in costume, thanks to Carolina for helping out Clown for hours and for helping to run the party, including cleaning up an anonymous blogger's puke. Thanks to Karl and Mike for coming over to help with decorations after that mini-emergency on Saturday, thanks to Hilly and Dave2 for the late night beer and toilet paper run, thanks to Britt for helping out at the end of the night, and thank you to everyone who came to the party and contributed to it being such a huge success.
Here's a little look at the party by the numbers:
Number of attendees: 93
Number of guests the caterer expected: 75
Number of times boobs were flashed: 38
Number of guests who flashed boobs: 1
Number of guests who were smoking pot: 1
Number of guests who shared: 0
Number of guests who vomited: 3
Number of guests who cleaned up their own vomit: 0
Number of guests who passed out: 5
Number of guests into whose unknowing mouths I stuck my penis: 5
Time the party started: 8:00
Time the first guest arrived: 7:40
Time the first guest passed out: 10:45
Time the food ran out: 11:00
Time the toilet paper ran out: 12:30
Time I started calling cabs to kick everyone out: 3:00
Time the last guest left: 4:00
States represented by attendees: 13
Countries represented by attendees: 2
Number of Canadian jokes made: 14
Karaoke songs performed: 62
Karaoke songs not performed by Turnbaby: 40
Karaoke songs performed well: 3
Number of times my nipples were licked: 5
Number of times my balls were licked: 0
Number of times I asked for my balls to be licked: 33
Age of oldest attendee: 60ish
Age of youngest attendee: 15
Apparent drinking age in the country of Avitopia: 15
Number of years in prison I could have gotten: 4
Obscure costumes: 2
Costumes that shed pieces: 3
Sexy costumes: 15
Sexy costumes not worn by me: 15
Men in drag: 3
Number of pirate costumes: 4
Number of costumes based on one skit of a TV show: 1
Number of costumes based on my drawings: 1
Cost of food and booze consumed by average guest: $25
Total amount of money put in jar to contribute to the party fund: $8
Total amount of money taken by pilfering drunk guests' wallets and purses: $1846
Profit: $3.60
Number of guests who ran half-naked down the street screaming: 1
Number of half-naked guests that I had to physically wrestle into the car: 1
Entertainment level, on a scale of 1-10, of watching me in a wig and dress wrestle a half-naked man: 48
Total hours it took to design, build and create the party: 480
Total hours it will take to break it all down: 5
Number of days before we start planning for next year: 14
---
Photos:
As part of the festivities, we converted one of the rooms of our house into a professional photo studio and my friend Jess took high-quality photos in good lighting of (hopefully) every single guest. As soon as we're able to get those ready (ideally, by Tuesday), we'll be posting those with instructions for ways to order them. For now, though, here are just a few photos from the party:
Since this was a theme around an abandoned carnival, my costume was that of the bearded lady:
The two best costumes at the party were courtesy of Dave2 and Clown. Dave took my Halloween T-shirt design and recreated the clown I drew exactly, and Clown reprised the role of Rainbow Brite that is usually played by Joel McHale from The Soup on E!:
I'll post more photos as I get them ready, especially the ones I've taken of the decorations.
---
T-shirts!
:
Several people at the party asked where they could get a Neverwas T-shirt, so I've decided to keep them available for about a week more. You can use the links below if you still want to get one of our awesome designs!
As I said above, Dave designed his costume based exactly on my drawing. The blood splatter is identical, the dots are placed in the exact same location, and the baby in his hand even has lopsided hair and no face!
Click the image to go buy this awesome design for yourself: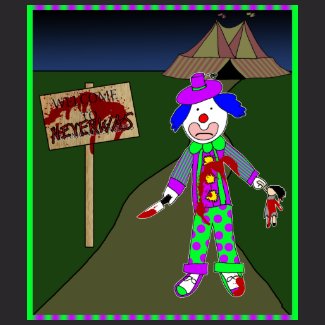 Murder Clown
by
avitable
Design
Custom TShirt
At
www.Zazzle.com
See other
Cartoon Art T-Shirts
In addition, don't forget that we have the limited edition shirt exclusively created by Dave for the Neverwas Fair, along with a kick-ass ticket shirt designed by Clown, and a carnival shirt designed by none other than our photographer Jess!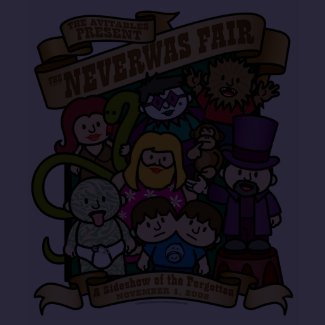 Limited Edition Davetoon Halloween Shirt
by
avitable
Buy
t-shirts
at
zazzle.com
View more
Cartoon Art T-Shirts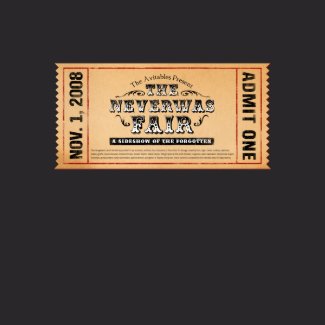 Neverwas Fair Ticket T-shirt
by
avitable
Make a Custom Shirt
At
zazzle.com
See other
Major Holidays T-Shirts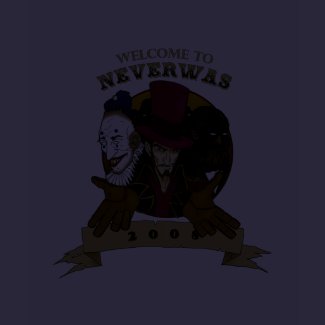 Welcome to the Neverwas Fair
by
avitable
Create Customized T Shirts
Using
www.Zazzle.com
Browse
Major Holidays T-Shirts
---
It's almost 1 AM on Sunday morning and I'm still pretty exhausted, so that's all that I have for now. Definitely take the time to check out the Flickr group that I linked to in the top of the post, and stay tuned for more photos and news about what I did with your kid photos!

———————— Adam Avitable posted on August 27, 2008: ——————————

Party Details:
What: Every year, I throw a huge Halloween party and invite all interested parties to come. There's booze and food and costumes and bloggers galore! This year's theme is "The Neverwas Fair: A Sideshow of the Forgotten". Costumes are mandatory, and you can dress in the theme if you want, or come up with your own great costume idea.
When: Saturday, November 1st, 2008, from 8 PM until ??
Where: The party will be at my house, which is located at 605 Birch Blvd in Altamonte Springs, Florida. My house is 30 minutes from both Orlando International Airport (MCO) and Sanford International Airport (SFB).
Who: Everyone is invited. Except for kids.
Why: Why not? Halloween is a fun time to get together and anyone who is shy can just hide behind a mask!
How: How do I do it? With a lot of work, a lot of help from friends, and by selling T-shirts and raffle tickets. Scroll down to read more.
Travel and Hotel Information:
Flights:
You can fly into either Sanford Airport (SFB) or Orlando International Airport (MCO). They're both about 30 minutes from my house, which is located at:
605 Birch Blvd.
Altamonte Springs, FL 32701
Sanford doesn't have many airlines, but if you're coming in from the Midwest, you might be able to fly through Allegiant Air, which has pretty reasonable fares. They won't show up on any travel discount sites, though, so you'll have to go to their site directly.
Orlando International Airport has plenty of airlines flying in. A taxi from the airport to the general area near my house will cost about $50, but all taxis in Orlando take credit cards for payment.
The party will be starting Saturday night, November 1st, around 8 PM. If you are going to be departing on Sunday, November 2nd, just keep in mind that flying out too early might mean very little sleep for you.
Hotels:
In order to try to find the closest hotels so that you wouldn't be too far from the party, I asked Paul, aka Jestertunes to work his travel agent magic and see what deals he could wrangle. And what a deal he got!
The Hilton Altamonte Springs is only 2.4 miles away from my house and right off of Interstate 4. The hotel provides complimentary transportation within a 3-mile radius, as well.
The normal room rate for the Hilton starts at $139/night, but we have a special Halloween Party group rate of $99/night. These rooms contain two double beds, free WiFi, a gourmet coffee maker, and premium amenities.
The rooms we have blocked off at this rate will not last long, so if you are planning on coming, you'll need to reserve them quickly.
How do you reserve my hotel room? Just contact Paul by phone from 11-5 PST at 1-800-474-5678, ext. 5402, or email him at paul@cruisemagic.com and he'll get you all set up. If you're still looking for plane flights, he can help find you the best rate out there, too.
Room or ride sharing? If you are interested in sharing a hotel room or getting a ride with someone to drive to the party, email me directly and I'll start keep a list of people so I can try to help anyone who wants to cut costs. My email address is my first name at my last name dot com.
Win a trip to Orlando!
As a way to finance part of the party and to allow everyone to participate, we are having a Halloween Party Raffle! The tickets are only $7.00 each, and we have four awesome prizes. Void where prohibited by law:
Third Prize: Your choice of one of our Halloween T-shirt designs.
Second Prize: Your choice of two Halloween T-shirts
First Prize: One of each of our four awesome Halloween T-shirts!
Grand Prize: If we sell at least 100 raffle tickets, a Grand Prize winner will win a round-trip flight to Orlando, FL, for the night of the Halloween Party! The only condition is that the flight has to cost $350 or less, and cannot be exchanged for cash or any other prize.
The raffle is closed. Congratulations to the winners!
Buy a Halloween T-shirt!
Each T-shirt is a unique, custom design and a percentage of each sale goes into the Avitable Halloween Party Fund. And you have four to choose from!
First, we have our take on the classic "Golden Ticket" – except where Charlie Bucket's Golden Ticket promised a life of chocolate from Willy Wonka, The Neverwas Fair Ticket promises a life of horror and despair, or maybe an end to life itself.
The next shirt we have features some of the main attractions to The Neverwas Fair. The menacing master of ceremonies, the dangerous dog-faced boy, the melancholy killer clown. Won't you come in and watch the show?
Our third shirt was designed by yours truly. With my signature chicken-scratch art and horribly proportioned figures, by purchasing this design, you can show your appreciation for the art of "special" people. Anyone will assume that you bought the shirt out of charity, or maybe lost a bet. What could be better?
Finally, for the first time ever, I have an exclusive limited design shirt that has been designed by none other than Dave2 from Blogography! This is a unique design drawn specifically for this shirt, and after these shirts are all gone, it will never be seen again! Since this is a special, limited edition, the price is higher, but isn't it worth it to be walking around in a piece of contemporary art? And while all of those Blogography fans are walking around with their Artificial Duck T-shirts, you can show that you're a real fan.
Final Notes
As part of a fun interactive element of the party, we need your pictures! Pictures of you as a child or a young teen would be perfect, and you can email them to me or contact me and I'll send you a SASE to mail me the photo to scan and send back. It's only going to be fun if we get enough people to participate, so email me today at my first name at my last name dot com!
If there any other questions that you have, please just comment below.